AG Cuccinelli Refuses to Join 48 States in Amicus Against Westboro Baptist Church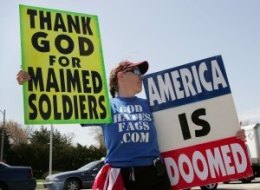 AG Ken Cuccinelli loves to file law suits and briefs.  He has several lawsuits against our country.  Please someone tell me why he didn't jump on the band wagon against the funeral protesters, Westboro Baptist Church,  48 states filed an amicus brief.  2 states did not:  Virginia and Maine.  WHAT?  If there was ever a reason to file an amicus brief, WBC is it!
According to Huffington Post:
WASHINGTON — Forty-eight states and the District of Columbia have submitted a brief to the Supreme Court in support of a father who sued anti-gay protesters over their demonstration at the 2006 funeral of his son, a Marine killed in Iraq.

Only Virginia and Maine declined to sign the brief by the Kansas attorney general.

Albert Snyder sued over protests by the Kansas-based Westboro Baptist Church at his son's funeral in Maryland. The church pickets funerals because they believe war deaths are punishment for U.S. tolerance of homosexuality.

The Supreme Court has agreed to consider whether the protesters' message is protected by the First Amendment.

In the brief filed Tuesday, the states argued they have a compelling interest in protecting the sanctity of funerals.
Mr. Snyder now owes WBC over $16,ooo because of a counter lawsuit.  Americans are outraged that the father of a fallen hero would ever have to pay this horrible group a penny.  Where is Virginia?  Once again, Ken Cuccinelli shames us all.  However, he now as one ally, according the the Richmond Times Dispatch–the ACLU.
Cuccinelli's office announced that it is not joining 48 other states in filing a supporting legal brief on behalf of Albert Snyder, the father of a soldier killed in Iraq whose funeral in Maryland was picketed by Westboro Baptist Church of Kansas, a hate group.

Among other things, the church pickets funerals of American soldiers, claiming God has killed them for defending a nation of "sodomite hypocrites."

Snyder is suing Westboro and its pastor, the Rev. Fred W. Phelps, for what he alleges was a disruption of the funeral for his son, Marine Lance Cpl. Matthew Snyder, who was killed in Iraq in 2006. Church members have become nationally known for heckling at military funerals and hoisting signs that berate mourners with slogans such as "You're in hell" and "God hates you."

After Snyder won a $5 million verdict in district court, an appeals court reversed the decision, saying the Westboro protestors were exercising their First Amendment right to free speech. The case is now moving to the U.S. Supreme Court.

Yesterday was the deadline for filing a "friend of the court" brief in support of Snyder's case. Every state but Maine and Virginia lined up behind Snyder.

"The attorney general's office deplores the absolutely vile and despicable acts of Fred Phelps and his followers," spokesman Brian Gottstein said in a statement. "We also greatly sympathize with the Snyder family and all families who have experienced the hatefulness of these people."

The statement said Cuccinelli's office chose not to file a brief "because the case could set a precedent that could severely curtail certain valid exercises of free speech."

Gottstein said Virginia has a law that balances free-speech rights but also protects people like the Snyder family by making it a crime to "willfully disrupt a funeral or memorial service to the point of preventing or interfering with the orderly conduct of the event."

Albert Snyder said Cuccinelli will pay a price politically for not joining other attorneys general.

But the attorney general found an ally on the First Amendment issue from a frequent critic — the Virginia chapter of the American Civil Liberties Union.

"We completely agree with the attorney general," said ACLU Executive Director Kent Willis, who called the issue a "fundamental gut check" of the First Amendment.

"This kind of deplorable free speech must be protected in order to make sure all speech is protected."
The speech of WBC far exceeds any speech deemed tolerable by a civilized society. Their speech should be treated like yelling fire in a crowded theater or using the F word during prime time TV. The behavior of Westboro Baptist Church (sic) is totally unacceptable to conservatives, liberals, and moderates. What is Cuccinelli thinking? He should pay the political price, as father Albert Snyder states. Who ever thought the Cooch would be cozied up with the ACLU? I suppose politics makes real strange bedfellows in this case. Or…perhaps the Cooch agrees with WBC.